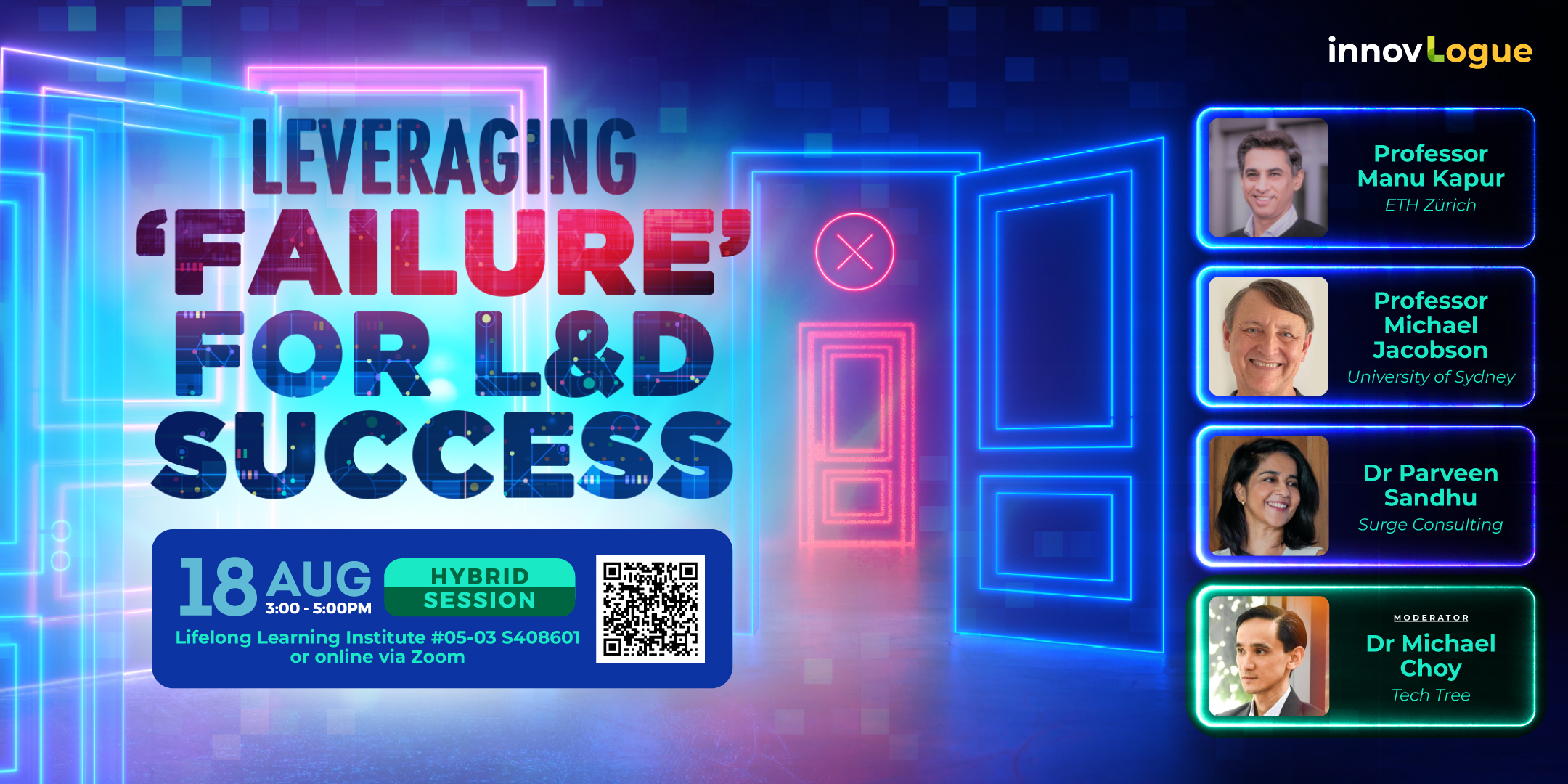 [HYBRID] Leveraging 'Failure' for L&D Success
Physical: inlab, 11 Eunos Road 8, #05-03, S408601 OR Virtual: Zoom Webinar, 18 Aug, 3PM - 5PM
[HYBRID] Leveraging 'Failure' for L&D Success
Description
Against the backdrop of today's volatile, complex working environment, learning is no longer for the here and now. It must prepare us to face the future. So, how can we transform training to meet ever-changing workforce and business needs?
"Learning by doing" and "Learning from your mistakes" are not new, and used more commonly than we may realize. Productive Failure takes these ideas further and gives them a repeatable structure with quality outcomes — the benefits while navigating pitfalls.
Join us for a panel discussion to not just explore the role of failure in learning, but also gain tips on how corporate L&D can learn to leverage on past unsuccessful experiences to quickly transform practices to achieve better results. How could it foster a resilient workforce? Discuss with experts from Zurich, Sydney and Singapore, also from the adult teaching and learning sphere on their take on 'learning from failure' as a pedagogical and practical approach.
---
SPEAKERS:
1. Professor Manu Kapur
(
In-Person
),
Professorship for Learning Sciences and Higher Education at ETH Zurich, Switzerland, and directs The Future Learning Initiative (FLI) at ETH Zurich
Prior to his current incumbent position, Professor Kapur was a Professor of Psychological Studies at the Education University of Hong Kong. He also worked at the National Institute of Education (NIE/NTU) of Singapore as the Head of the Curriculum, Teaching and Learning Department, as well as the Head of the Learning Sciences Lab (LSL). Prof Kapur will share about Productive Failure (PF), its latest developments and how these could apply to adult learning, more so in a COVID digitalized learning world. Full Bio:
https://gess.ethz.ch/en/the-department/people/person-detail.MjI4ODQy.TGlzdC81MTMsNjE4MTIwODY=.html
---
2. Professor Michael J. Jacobson
(
Over-Zoom
from Sydney, Australia)
, Professor and Chair of Education | Centre for Research on Learning and Innovation | Co-Convener, Advanced Learning Technologies SIG, University of Sydney, Australia
Michael is also an Honorary Associate in the School of Medical Sciences, Co-Director of the Learning, Cognitive, and Brain Sciences Research Group, and an Affiliate of the New England Complex Systems Institute. His research explores groundbreaking learning approaches such as Productive Failure combined with advance learning technology systems including AI virtual worlds and agent-based modeling and visualization tools. Michael has published extensively in areas related to the learning and cognitive sciences and technology, given invited talks at international conferences, and served as an educational and business consultant in Australia and internationally. He received his Ph.D. from the University of Illinois at Urbana-Champaign in 1991. Full Bio:
https://www.sydney.edu.au/arts/about/our-people/academic-staff/michael-jacobson.html
---
3. Dr. Parveen Sandhu
(
In-Person
),
Facilitator and Learning experience Designer, Surge Consulting | Specialist Adult educator (Curriculum Development), IAL
Dr. Parveen Sandhu is an engaging educator, workplace learning specialist, facilitator and public speaker whose work focuses on 'right-fit' in both design and delivery. She uses impactful design interventions to create tangible learning whilst inspiring mind-set growth amongst people of diverse backgrounds. At IAL, she facilitates programmes on learning design and delivery. She works with a wide spectrum of learners from MNCs, SMEs and public institutes, helping them shift from traditional learning mind-sets to ones that are responsive to the needs of a rapidly changing world of work. Dr. Sandhu, will share on her teaching experiences of incorporating 'Elements of Productive Failure' in her IAL classes- focusing on challenges faces and lessons learned. Full Bio:
https://www.ial.edu.sg/find-professional/dr-parveen-kaur-sandhu.html
---
MODERATOR:
Dr. Michael Choy (
present
In-Person)
,
Chief Executive Officer at Tech Tree Pte Ltd, Specialist Adult Educator (Curriculum Development), IAL
Spanning over 2 decades, Dr. Michael Choy started his career in education as a trained psychologist addressing the learning needs of children (e.g. dyslexia and ADHD). As part of his work in the MOE, Singapore, and subsequently, through his own consultancy company, he trained more than 7,000 teachers in Singapore, ASEAN and China over 10 years. His proprietary learning and teaching styles programme was used across 40 schools to train more than 45,000 students. Full Bio:
https://www.ial.edu.sg/find-professional/dr-michael-choy-seng-kim.html
---
REGISTRATION FOR EITHER IN-PERSON OR VIRTUAL ATTENDANCE:
(Note: This Zoom registration link below is used for BOTH in-person or virtual attendance)

In-Person OR Virtual Attendance Registration Link:
https://ialsg.zoom.us/webinar/register/WN_eQEy6QkuQ7mnEIbalitwQg
---

PHYSICAL LOCATION OF THIS EVENT:

inlab (Innovation Lab)
11 Eunos Road 8, #05-03
Lifelong Learning Institute, S408601
---
VIRTUAL LOCATION OF THIS EVENT:
Zoom Webinar Platform - URL link will be sent upon registration
---