Bite-sized Learning 
We offer specific and concise learning on topics that we know are important for adult educators, individual trainers or someone who needs to engage their audience
---

innovBite provides informal and bite-sized learning on new and/or important topics for our stakeholders in Training and Adult Education (TAE) sector, from individual trainers, full-time employees with training responsibility, to full-fledged training provider. Each session is 30 min to 1 hour long and features a new topic to expand your horizon.
---
Event Lineup for the month of June 2023 (Face-to-Face in inlab)
Supercharging XR in Learning (20 June, 10am - 12pm)
There's so much to keep up with in the learning and training space given the metaverse craze last year, and now, the AI craze this year. Yet with these rapid advancements, are we equipped with the relevant skillsets to adopt them?
In June, we have specially arranged a 2-hour experiential session for you to try out some of the latest XVR headsets available. This session is a continuation to last year's September innovBite session titled Demystifying XR & Metaverse in Learning based on the positive feedback from you (Thank you!). Our speaker, Mr. Bala Murali, will be doing a guided demonstration on the VXR headset via use cases and you will have the opportunity to try out the headsets yourself at the various stations we have set up. Do not miss this session happening on 20th June, Tue, 10am to 12pm at Lifelong Learning Institute, inlab level 5 open space (take the lift via Lobby B). Slots are limited so register today to book your slot!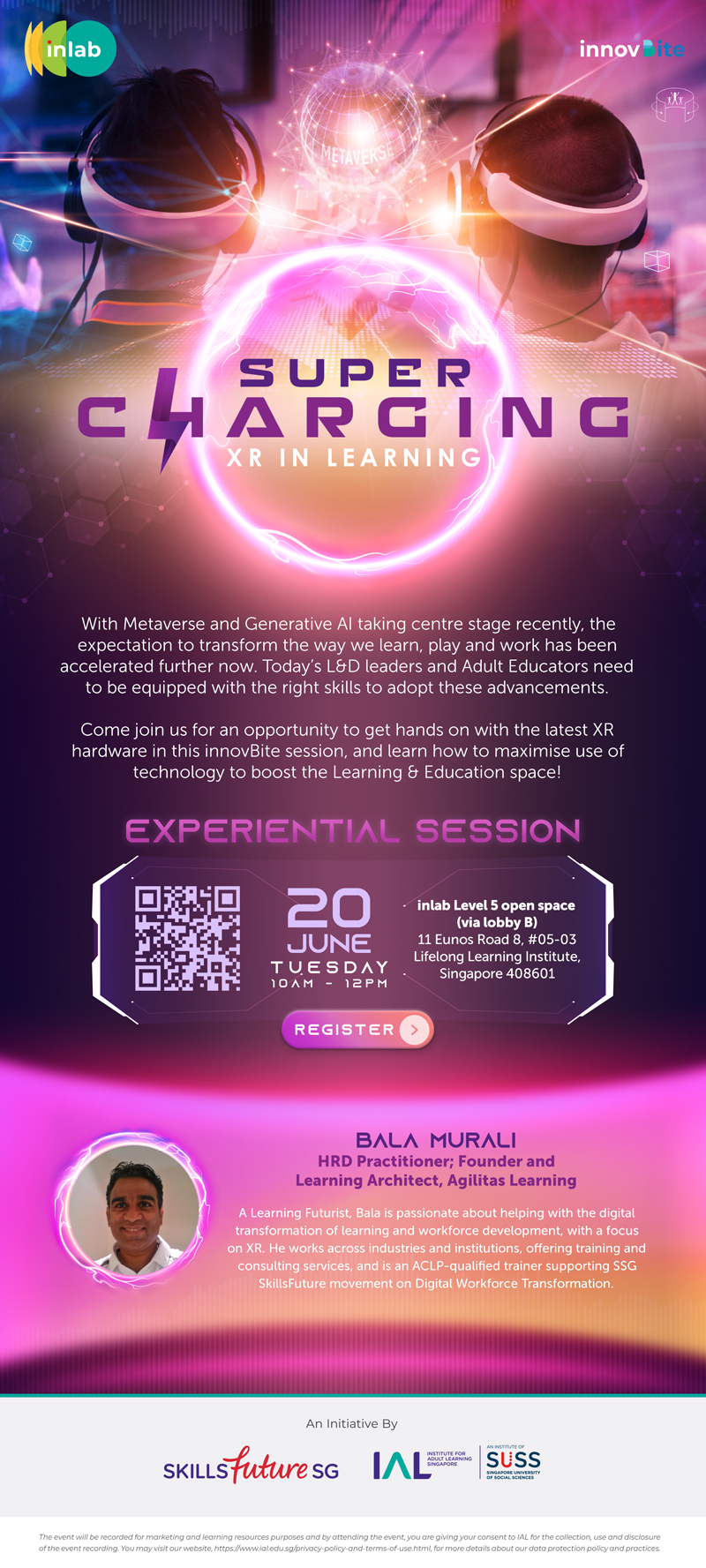 To register for June's innovBite session, click

Registration
Upcoming innovBite session
TBC
Check out sessions from the previous months!
Not to worry if you missed our innovBite sessions, check them out on our Youtube channel:
(Updated on: 12 May 2023)