Let's bridge research with practice...
Gain actionable insights via a panel discussion which is held once in two months.
---

innovLogue - A programme sets out to bridge research and practice for better learning outcomes via a two-hour seminar and panel-led dialogue. The session is held once, every two-months. Be inspired by specially invited gurus and expert practitioners and engage them in panel discussions and Q&A.
---
Topic: Skill vs Technology: "Augmenting the role of Human Capital in Advanced Manufacturing Transformation"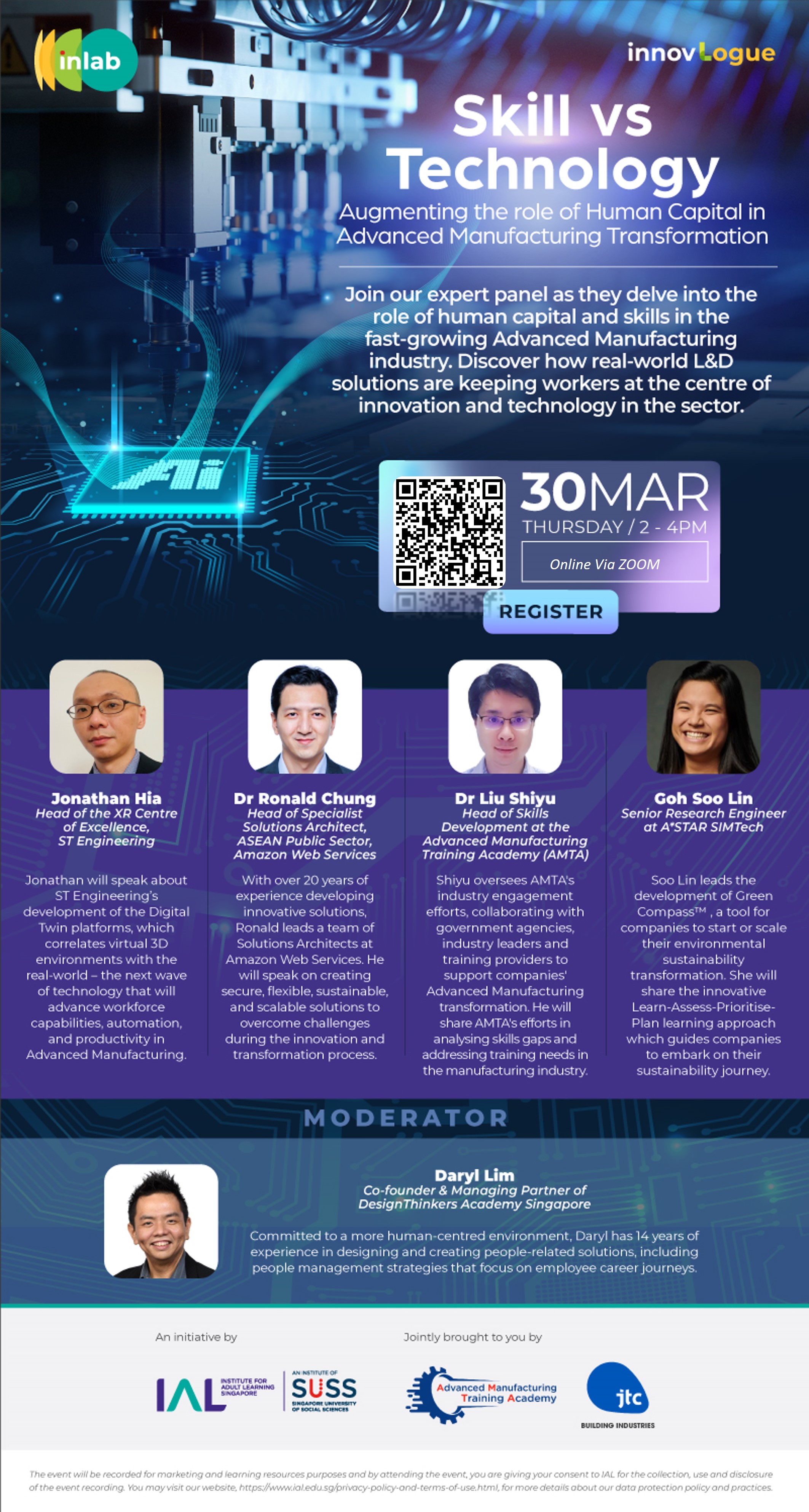 Skill vs Technology
Join our expert panel as they delve into the role of human capital and skills in the fast-growing Advanced Manufacturing industry. Discover how real-world L&D solutions are keeping workers at the centre of innovation and technology in the sector.
Date: Thursday, March 30, 2023
Time: 2:00 PM - 4:00 PM (GMT+8) (Online via Zoom)
For more of our past innovLogue 2022 Highlights, please visit our innovLogue Highlights page:
Past innovLogue 2022 Highlights
---
Topic: Generative AI - A solution to challenges in Adult Learning?

Generative AI
Are you ready to discover the exciting possibilities of generative AI in education, training, work and innovation? Join our thought-provoking panel dialogue session as we dive into the transformative power of generative AI tools. As the field of generative AI continues to evolve, the traditional roles of trainers and educators are being redefined. Is it possible for robots to design lessons and assess learning outcomes as effectively as humans? And what ethical and Intellectual Property considerations should we be aware of when implementing AI tools in education and training? Gain valuable insights into the rapidly changing landscape of AI in education and uncover new ways to transform our learning, assessment, and skilling systems. Register now and stay ahead of the curve in the age of AI.
Date: Friday, April 21, 2023
Time: 3:00 PM - 5:00 PM (GMT+8) (Online via Zoom)
For more of our past innovLogue 2022 Highlights, please visit our innovLogue Highlights page:
Past innovLogue 2022 Highlights