What is AEN?
The Adult Education Network (AEN) is a community of Training and Adult Education (TAE) professionals coming together to connect to opportunities, collaborate and learn for continuing professional development and skills acquisition. AEN aims to nurture TAE professionals to become enablers to facilitate the implementation of national initiatives such as the iN.LEARN2020, Industry Transformation Maps and etc., under the SkillsFuture movement.
Who is AEN for?
The AEN is open to all professionals coming from the following three main TAE roles:
| Adult Education (AE) Professionals | Training Management (TM) Specialists | Human Capital Development (HCD) Professionals |
| --- | --- | --- |
| Individuals whose work relates to the direct activities of development and training for the continuing education and training of the workforce. | Individuals engaged in the management of a training institution as its core business function | In-company Learning & Development staff who are involved in building employee capabilities to support business needs. |
| | | |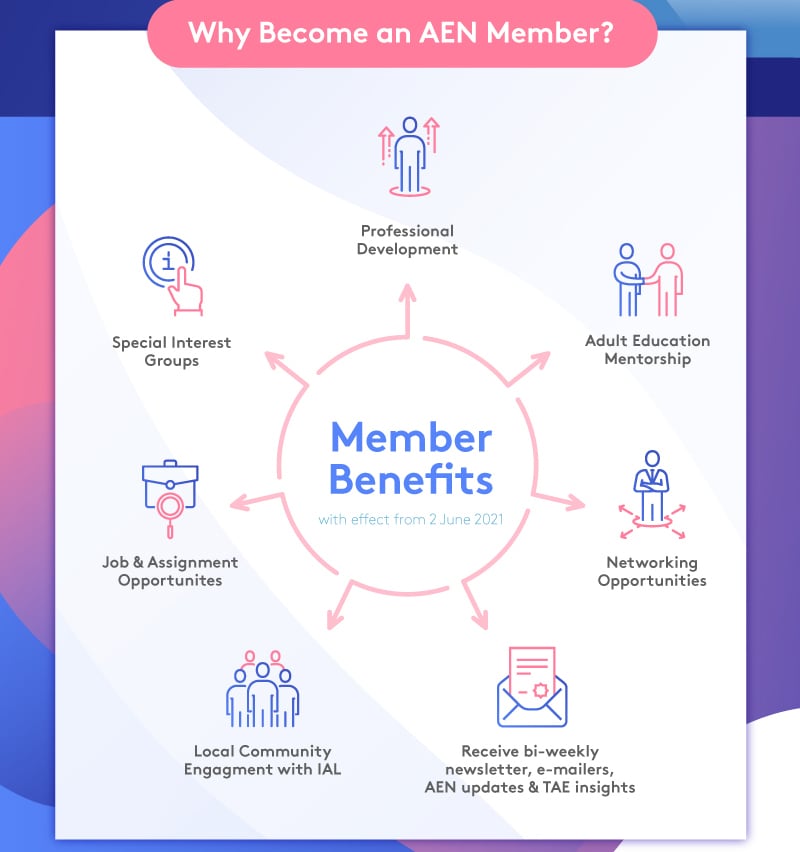 Why join the AEN?
To remain competitive in the dynamic TAE landscape, we acknowledge the need for individuals to be connected to the larger TAE community for collaborative support and capability development. Established since 2008, the AEN has been catering to the needs of its current network of over 6,000 members, through a host of membership benefits that address the differing needs of its members in three typical career phases - from the aspiring, the establishing, to the established.
How will I benefit?
Continuing Professional Development (CPD) Programmes and Events
Access to an extensive line-up of events and activities catered for all in the TAE community:
Preferential rates for a wide range of learning opportunities such as skills-building workshops, best practices sharing seminars, conferences, and networking activities delivered in various learning modes.
Sharing sessions by IAL on current and future TAE developments and trends.
Job and Business Opportunities
Get periodic updates on TAE job and business opportunities, both local and overseas.
Engage with a network of professionals and collaborate with industry leaders.
Special Interest Groups (SIGs)
Acquire practical insights and exchange ideas in specific TAE functional areas with like-minded and established professionals. Be part of the AEN's communities of practice held quarterly.
AE Mentorship
Receive opportunities for professional guidance by experienced mentors.
Access to Resources
Take advantage of IAL's extensive library of resources and access online reference materials on industry trends and development.
How can I apply/ renew?
Membership application and renewable is chargeable at S$54.00 (incl. GST) for a year. A notification for renewal will be sent before expiry of the membership.


Terms and Conditions
Membership fees are non-refundable and is subject to change without prior notice.
Separate fees may apply for selected AEN events and activities.
AEN preferential rates are only applicable to Singapore Citizens and Permanent Residents.
IAL reserves the right to decline any application for membership as it deems appropriate.
By applying for the membership, you agree to that the Institute for Adult Learning (IAL) may collect, use and disclose your personal data for IAL event updates, reminders for membership renewal and administrative purposes.
Can I contribute to AEN?
At AEN, we are constantly on the look out for opportunities to engage professionals who share synergistic goals and ideals as us. If you are interested to learn more about becoming an AE Mentor to help nurture new and aspiring AEs, or have a TAE-related subject content to share with the community through a CPD workshop of sorts, please contact IAL at 6579 0300 or IAL Customer Service Support at https://feedback.ial.edu.sg/.