innovLogue Highlights
If you missed attending our past innovLogue sessions, here you can watch some of our recent recordings of our innovLogue sessions!
---
Topic: Generative AI: A Solution to Challenges in Adult Learning (21 April 2023)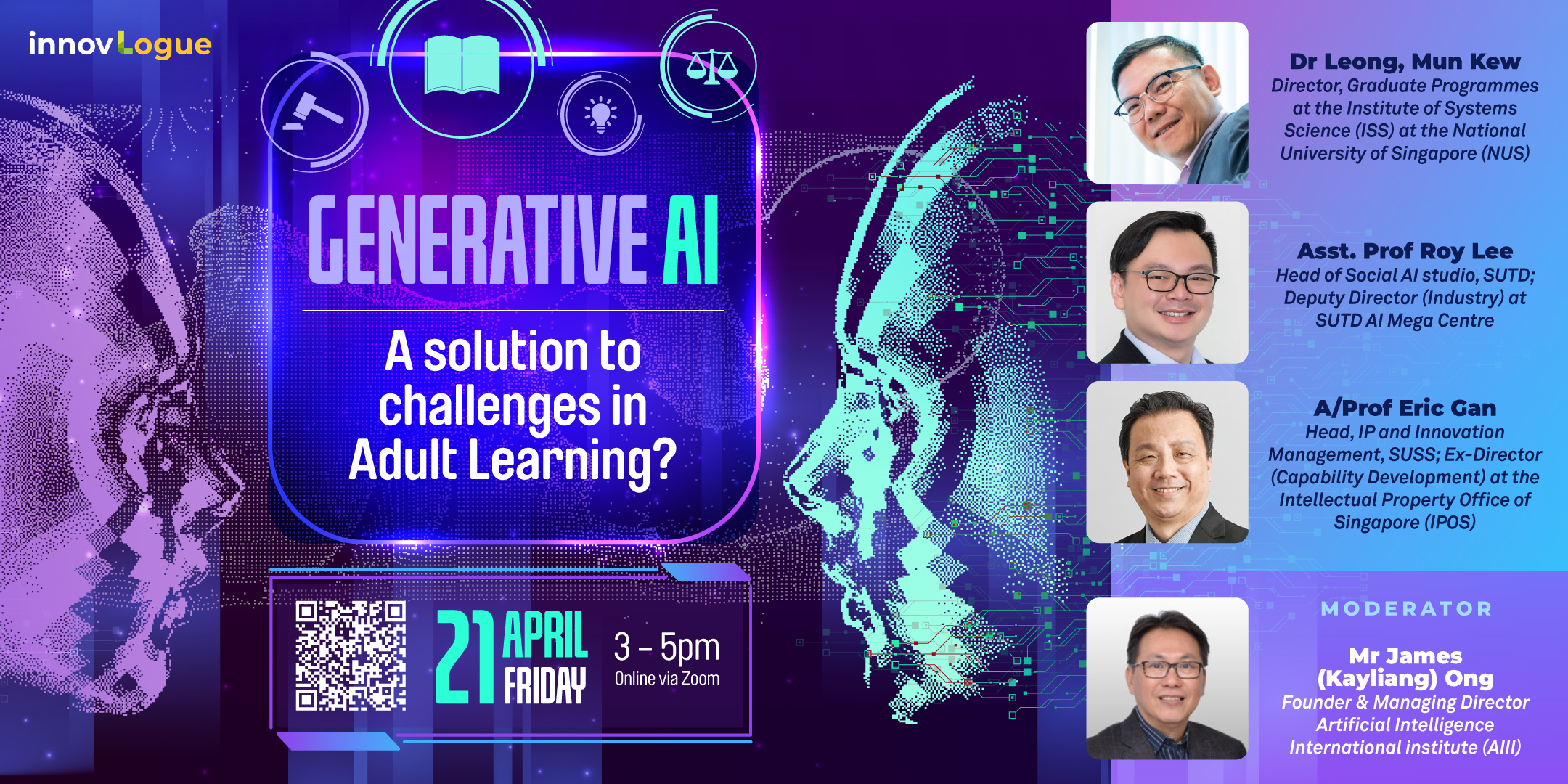 REGISTER TO WATCH THIS WEBINAR ON-DEMAND:
https://ialsg.zoom.us/webinar/register/WN_O0nWTkz5SWC45UjEGgtGsw
SPEAKERS:
1. Dr. Leong Mun Kew, Director, Graduate Programmes at the Institute of Systems Science (ISS) at the National University of Singapore (NUS)
2. Asst. Prof Roy Ka-Wei Lee, Head of Social AI studio, SUTD; Deputy Director (Industry) at SUTD AI Mega Centre
3. Assoc. Prof Eric Gan Kok Wah, Head, IP and Innovation Management, SUSS
MODERATOR:
Dr. James (Kayliang) Ong, Founder & Managing Director Artificial Intelligence International institute (AIII)
SYNOPSIS:
Are you ready to discover the exciting possibilities of generative AI in education, training, work and innovation? Join our thought-provoking panel dialogue session as we dive into the transformative power of generative AI tools. As the field of generative AI continues to evolve, the traditional roles of trainers and educators are being redefined. Is it possible for robots to design lessons and assess learning outcomes as effectively as humans? And what ethical and Intellectual Property considerations should we be aware of when implementing AI tools in education and training? Gain valuable insights into the rapidly changing landscape of AI in education and uncover new ways to transform our learning, assessment, and skilling systems. Register now and stay ahead of the curve in the age of AI.
PRESENTATION MATERIALS:
---
Topic: Skill vs Technology: Augmenting the role of Human Capital in Advanced Manufacturing Transformation (30 March 2023)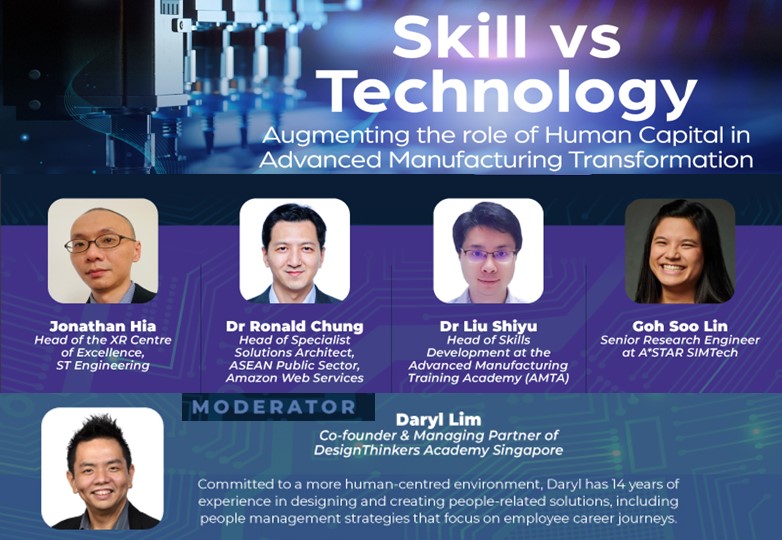 REGISTER TO WATCH THIS WEBINAR ON-DEMAND:
https://ialsg.zoom.us/webinar/register/WN_akW-Y0AsTCqHT1qCX6ybuw
SPEAKERS:
1. Mr. Jonathan Hia, Head of the XR Centre of Excellence, ST Engineering Training & Simulation Systems
2. Dr Ronald Chung, Head of Specialist Solutions Architects, ASEAN Public Sector, Amazon Web Services
3. Dr Liu Shiyu, Head of Skills Development, Advanced Manufacturing Training Academy (AMTA)
4. Ms. Goh Soo Lin, Senior Research Engineer @A*STAR SIMTech
MODERATOR:
Mr. Daryl Lim, Co-founder & Managing Partner, Design Thinkers Academy Singapore
SYNOPSIS:
Join our expert panel as they delve into the role of human capital and skills in the fast-growing Advanced Manufacturing industry. Discover how real-world L&D solutions are keeping workers at the centre of innovation and technology in the sector.
PRESENTATION MATERIALS:
Digital Twin - ST Engineering & AWS
---
Topic: Is EdTech Failing To Deliver? (15 Sep 2022)
SPEAKERS:
1. Dr. Samson Tan, Head Strategic Development, Civica, Former Head, Centre for Innovation in Learning, NIE
2. Mr. Sandeep A, Founder & Managing Partner, Kaizenvest
3. Mr. Alvinder Singh, Managing Director, VisionarySchoolmen
MODERATOR:
Mr. Darren Tjan, Principal Consultant, @The Learn Better Co.
Synopsis:
The global EdTech industry continues to grow exponentially, and is expected to reach USD 605 billion by 2027. But how much do we know about what actually works to impact learning outcomes? How well does current EdTech facilitate skill acquisition, and bridge the education-to-employment gap, amid constantly evolving workforce needs? Join us in examining the state of EdTech from a learning sciences perspective in this innovLogue session. Our panel discusses how to create solutions for real-world learning needs, offers tips on improving EdTech effectiveness, and more, all to boost learning and business performance!
Presentation Materials: