Programme for the International Assessment of Adult Competencies (PIAAC)
About PIAAC
Programme for the International Assessment of Adult Competencies (PIAAC)
PIAAC is an initiative of the Organisation for Economic Co-operation and Development (OECD) that assists governments in assessing, monitoring and analysing the level and distribution of skills among their adult populations as well as the extent of skills use in different contexts.
PIAAC is a research collaboration between national governments and the OECD.
It is the most comprehensive international survey of adult skills ever undertaken (with 34 economies participating in Round 1 and Round 2).
It assesses the level and distribution of skills in our adult population and the extent of skills use in different context.
It aims to help governments better understand how education and training systems can nurture these skills.
It is carried out by interviewing 16-65 years old people, and targeting a minimum of 5,000 respondents.
Organisations Involved in PIAAC
PIAAC is initiated by the OECD based in Paris, France.

PIAAC is managed by an international consortium of experts and organisations in different fields including education, assessment and questionnaire design, sampling design, research analyses, skills, survey operations, IT management, linguistics, etc. The PIAAC Consortium laid out specific standards and guidelines to the whole process of conducting this study to ensure the survey design and implementation processes of PIAAC yield high-quality and internationally comparable data.
In Singapore, PIAAC is implemented by the Institute for Adult Learning, with support from the Ministry of Education (MOE), Ministry of Manpower (MOM) and the Singapore Workforce Development Agency (WDA).
List of Countries Participating in PIAAC1




1. Australia
2. Austria
3. Belgium
4. Canada
5. Cyprus
6. Czech Republic
7. Denmark
8. Finland
9. France
10. Germany
11. Ireland
12. Italy
13. Japan
14. Korea
15. Netherlands
16. Norway
17. Poland
18. Russian Federation
19. Slovak Republic
20. Spain
21. Sweden
22. United Kingdom
23. United States
24. Estonia
1. Greece
2. Indonesia
3. Israel
4. Lithuania
5. New Zealand
6. Singapore
7. Turkey
8. Chile
9. Slovenia




1 The analysis for the United Kingdom (UK) is done separately for England and Northern Ireland, and hence the comparison across 33 countries reflects 34 economies.



Assessments
Components of PIAAC
PIAAC is administered under the supervision of trained interviewers either in the respondent's home or in a location agreed between the respondent and the interviewer. After the sampled person is identified, the survey is administered in two stages:
Background Questionnaire
The background questionnaire is administered in a Computer-Aided Personal Interview format by the interviewer. The questionnaire collects information on the basic demographic characteristics of respondents; educational attainment and training participation; labour force status and employment; social outcomes; the use of literacy, numeracy and ICT skills at work and in everyday life; and the use of a range of other skills at work.
Direct Assessments
The respondents will be asked to complete these direct assessments with a computer or with a paper and pencil. The assessment is not timed and typically takes about 50 minutes to complete.
Both components can take about 60-90 minutes to complete.



Skills Measured in PIAAC
The direct assessment component of the survey evaluates the skills of adults in three fundamental domains: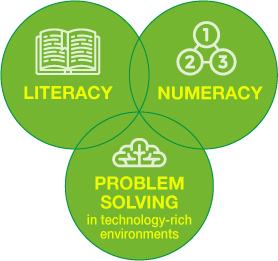 Literacy
This refers to the ability to understand, evaluate, use and engage with written texts to participate in society, to achieve one's goals, and to develop one's knowledge and potential.
Numeracy
This refers to the ability to access, use, interpret and communicate mathematical information and ideas, in order to engage in and manage the mathematical demands of a range of situations in adult life.
Problem solving in technology-rich environments
This refers to the ability to use digital technology, communication tools and networks to acquire and evaluate information, communicate with others and perform practical tasks. It focuses on the abilities to solve problems for personal, work and civic purposes by setting up appropriate goals and plans, and accessing and making use of information through computers and computer networks.

These domains constitute "key information processing skills" for adults with the following consideration:
Necessary for fully integrating and participating in the labour market, education and training, and social and civic life
Highly transferable, in that they are relevant to many social contexts and work situations, as opposed to competencies that are of relevance in specific occupations, industries or types of activity
Learnable and therefore subject to the influence of policy

They provide a foundation for the development of other, high-order cognitive skills and are prerequisites for gaining access to and understanding of specific domains of knowledge.



Proficiency Scores and Proficiency Levels
Proficiency in these domains is considered as a continuum of ability involving the mastery of information-processing tasks of increasing complexity. The results are represented on a 500-point scale divided into levels. Each proficiency level summarises what a person with a particular score can do. Six proficiency levels are defined for literacy and numeracy and four for problem solving in technology-rich environments.


Key Findings
The participation of Singapore at the Programme for the International Assessment of Adult Competencies (PIAAC) has shown that our young adults performed well as compared to their global peers from 33 other economies, particularly in their proficiency in problem solving in technology rich environments, numeracy and literacy skills.

The results reflect the progress Singapore has made in education and skills training over the years.

For more details on the study outcome for Singapore, please refer to the media release (PDF, 0.5MB).


Public Data
The International Data Explorer (IDE) is an online tool that allows users to create statistical tables and charts to explore adults' performance in PIAAC by country, demographic characteristics, social and linguistic background, education, use of skills and employment status. Click here to access IDE.

PIAAC public-use data can also be found in an international database, which contains all information collected through the international PIAAC instruments. Public Use Files (PUF) containing individual unit record data in SAS, SPSS and Excel format are available for downloading.

To download the Public Use files and for more information about OECD Public Data and Analysis, please visit here.

Click here (Excel, 0.4MB) to download the International Codebook.

Click here (Word, 93KB) to download the Derived Variables Codebook.
For the online version of PIAAC assessment please visit here.
For a demo version of the assessment (6 background questions; 3 literacy, 3 numeracy and 1 problem solving in technology-rich environments items), please visit here.
For country-specific materials on PIAAC, please visit this link.
For PIAAC publications released by OECD, please visit this link.